Naples St. Patrick's Day Parade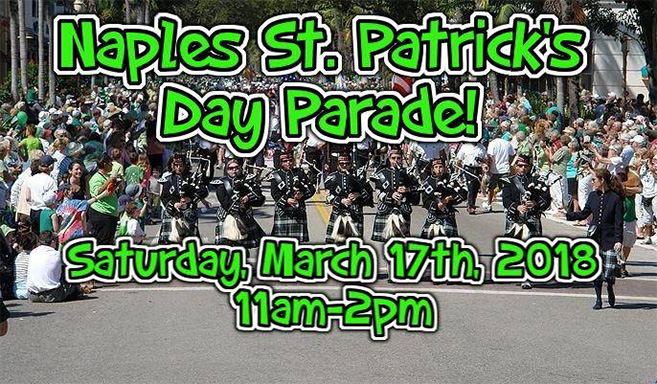 Saturday, March 17 at 11:00 AM – 2:00 PM EDT
The Naples St. Patrick's Day Parade will be on Saturday, March 17th, 2018! There will be floats, fire engines, school groups, bands, dance troupes, boy and girl scouts and civic groups making their way up 3rd Street and down 5th Ave South for this annual tradition in Naples! Wear green and festive attire and be prepared to catch candy, beads and other goodies from parade participants! This is always a VERY popular event and parking/space for seating along the street, goes very quickly. Everything is first come, first serve. No saving and no reservations.
***Just a reminder to patrons that to keep the parade traveling smoothly and to keep it on time, please do not interfere with the floats and run out into the street. Parade goers will be tossing out goodies and treats into the crowd but if something happens to land in the street, please leave it there until the parade has concluded. This is for your safety.
Over 4 decades ago, a group of fun-loving Neapolitan's got together and decided to have a parade to celebrate St. Patrick's Day. Through the hard work of many volunteers and the generous support of patrons, the Parade has prospered in the decades since. It is now the largest privately-funded Parade in the state of Florida. It draws over 40,000 people to downtown Naples each year to celebrate Irish heritage and Irish culture in America.
The parade staging area and beginning of the parade will be at Saint Ann's Church in Old Naples. The parade travels down 3rd Street South to 5th Avenue, then goes down 8th Street South to end at Crayton Cove. Free parking will be at the 2 parking garages or along the streets near surrounding 5th Ave South. Private lots will be charging a fee to park. Please do NOT block driveways, park in bike lanes, park on sidewalks. or on other people's properties.
*Occurring at 9:30am before the parade will be the annual flag raising which takes place the morning of the Parade and is held at The Dock Restaurant at Crayton Cove. This traditional program honors veterans and public safety personnel, who will be featured along with color guards and musical accompaniment. Free coffee and danishes will be available.
Event page: Facebook